Giovanni's Table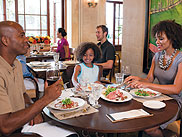 Your very first bite at this classic Italian restaurant will instantly transport you to the Tuscan coastline. Close your eyes and savor the tastes of rustic dishes with a contemporary flair, including toasted herb foccacia, pastas, braised meat dishes and stews, served family-style.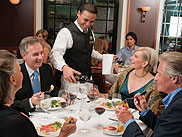 Chops Grille
Royal Caribbean's signature steakhouse has been a guest favorite since its 2001 debut. Now every ship will feature this can't-miss dining experience, serving the finest cuts of steak plus fresh seafood, hearty side dishes and delectable desserts in an upscale, contemporary setting.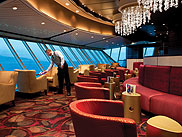 Viking Crown Lounge
Viking Crown Lounge, the iconic architectural feature that has set the fleet apart since 1970, is reimagined as a nightlife destination. At the top of the ship, find 360 degree panoramic sea views plus the ulitmate night out – dancing, drinks and a new bite-sized classics menu, amidst an updated chic decor.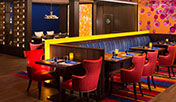 Sabor
Sabor – in Spanish, it means flavor. But here, it's that and so much more. A vibrant dance across the plate and palate. A long heritage of fresh, simple ingredients, reimagined in full bloom.