March 4 – March 11, 2018
  Oasis of the Seas
WESTERN CARIBBEAN CRUISE
 DAY 1  DEPARTS 4:30 PM Port Canaveral, Florida
Welcome aboard Oasis of the Seas Port Canaveral is your gateway to the Space Coast and the attractions of Central Florida. Visit the Kennedy Space Center, swim at Cocoa Beach or enjoy a fun-filled day at one of Orlando's world-famous theme parks.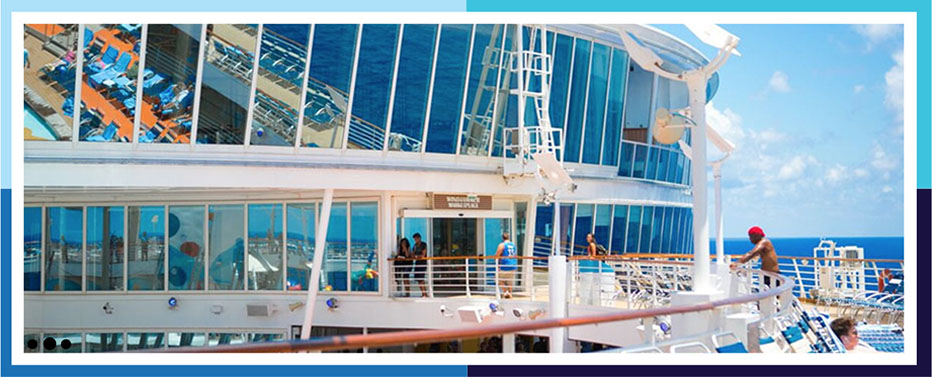 DAY 3 Port of Call: Labadee, Haiti
Our private beach resort features pristine beaches, coral reefs and lagoon-like bays surrounded by forested mountains. Relax and recharge or take advantage of an array of water sports and activities, including our famous zip-line.
DAY 4 Port of Call: Falmouth, Jamaica
If you don't know Falmouth, it's time you discover one of Jamaica's most unique destinations. A place with one-of-a-kind thrills at every turn, right at the center of the island's bestknown activities and destinations. Ride horseback through Caribbean waters along a white-sand beach in Ocho Rios and climb the invigorating Dunn's River Falls. Explore the mesmerizing Green Grotto Caves or drift down the emerald waters of the Martha Brae River on a bamboo gondola. Immerse yourself in vibrant culture as you tour the Good Hope Great House plantation and unwind on an award-winning beach in Montego. There are countless directions your vacation can take you. But in Falmouth, all roads lead to adventure
DAY 5 Cruising:
Onboard, dining is about more than just food. Think ambience, variety and the flexibility to decide when and what you savor.
DAY 6 Port of Call: Cozumel, Mexico
Cozumel features great diving, snorkeling and beaches, marine-life encounters, botanical gardens, trails and shopping in the town of San Miguel. The nearby mainland is home to Tulum, Mayan cliffside ruins overlooking the Caribbean.
EXCLUSIVE SPECIAL EVENTS
Dancing
Let's Get Ready to Rock Dance Party
DJ Al Brady's High School Reunion Dance
Prom Night Dance
Sock Hop Dance
Good Night SweetHeart Dance

Private Concerts
Let's Get Ready to Rock Dance Party
60's Pop Icon Show
Hitmakers Show
Doo Wop N' Rock
Bowzer's Rock N' Roll Party
Special Events
Meet & Greet Autograph Session
Q & A Sessions
Rock & Roll Hall of Shame
Rockaraoke
EXCLUSIVE CONCERTS
Rocky & The Rollers
America's Premier Rock and Roll Band
Jon "Bowzer" Bauman
"Formerly of Sha Na Na – Born to Hand Jive"
Johnny Contardo
"Formerly of Sha Na Na – Those Magic Changes"
Gary Lewis and The Playboys
"This Diamond Ring – Just My Style"
   Freddy "Boom Boom" Cannon
"Palisades Park – Tallahassee Lassie"
 The Flamingos Featuring Terry Johnson

"Only Have Eyes For You – Lovers Never Say Goodbye"
Johnny Tillotson
"Poetry In Motion – Earth Angel"
Brian Hyland
"Itsy Bitsy Teenie Weenie Yellow Polka Dot Bikini – Sealed With A Kiss"
Jay Siegel's Tokens
"The Lion Sleeps Tonight – Portrait of My Love"
The Dixie Cups
"Going To The Chapel"
Ron Dante (original lead singer of The Archies)
"Sugar Sugar – Tracy"
Joey Dee
   "The Peppermint Twist"
 Peggy March
"I Will Follow Him"
The Mystics
"Hushabye"
Dennis Tufano
(original lead singer of The Buckinghams)
"Kind of a Drag"
 AND
DJ Al Brady Master Of Ceremonies
Rock and Roll Hall of Shame
Price includes:
All taxes and port charges
All shipboard gratuities
All private concerts, dances and functions on ship
Rockin' the Caribbean Cruise T-shirt
Rockin' the Caribbean Commemorative Cruise Booklet
AAA EXCLUSIVE VACATIONS
official Facebook Cruise Page